Do you have items laying around at home that you want to sell online? Or, do you have a collection of handmade products that you'd like to start selling? If so, then you may have thought about selling on Depop.
Selling something on any new platform can seem confusing and overwhelming, but don't be discouraged.
In this article – How to Sell on Depop – A Beginner's Guide, we are going to show you exactly how to sell on Depop step-by-step with a fresh new account to help you, whether you're completely a beginner or not.
We're not going to just show you how to start selling on Depop; we'll also share some helpful selling tips with you and information about Depop fees, the shipment process, and much more.
Ready to get started? Let's dive right in.
What You Need to Know Before Selling on Depop
Before you start selling on Depop, there are a few things to consider, like the Depop selling and listing fees, to help you lay down a firm foundation for your future profits.
Depop Fees
Once an item sells, Depop will automatically charge a 10% fee on the sale price (including the shipping costs). The fee will be taken from your connected PayPal account or the card you are using on your Depop account.
Also, there's a PayPal transaction fee of 2.9% + $0.30 in the USA and 2.9% + £0.30 in the UK.
Listing Fees
Listing an item on Depop is completely free. However, the flat 10% selling fee that we discussed is charged only when you sell an item.
How to Sell on Depop
Selling your items on Depop is a simple process. All you have to do is to create a free Depop account, list your items, deliver your products, and get paid.
Here's the step-by-step process to start selling on Depop:
1. Create an account on Depop
The first step is going to create an account on Depop. For this example, we're going to create an account directly from their website. However, you can create your account through the Depop app as well, as the process is the same.
To create an account, you can go through the following steps:
Step 1: Go to signup.depop.com, enter your phone number, and click on Send code.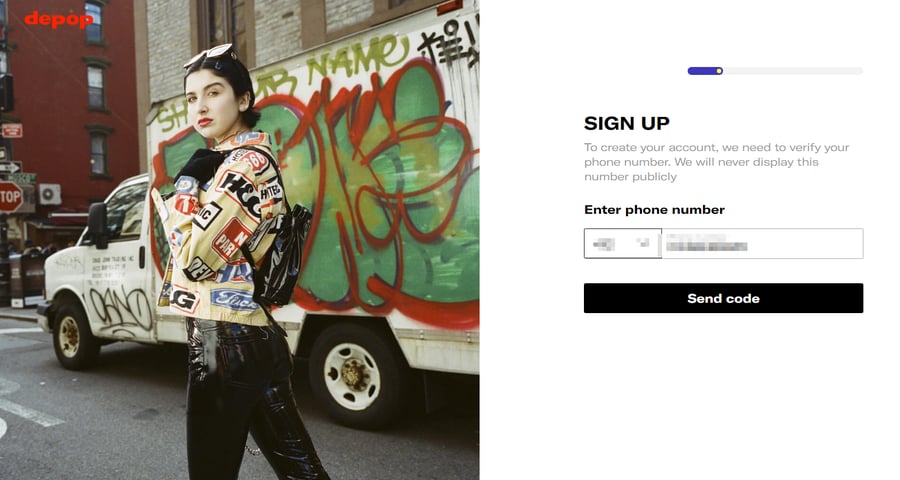 Step 2: Enter the 6-digit code sent by Depop to your phone number.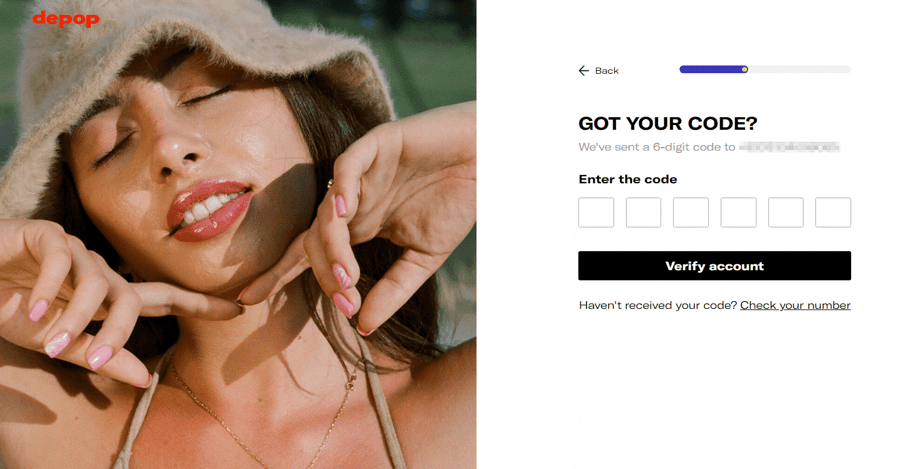 Step 3: Fill out the basic details and then click on Next.
Step 4: Click on Create Account.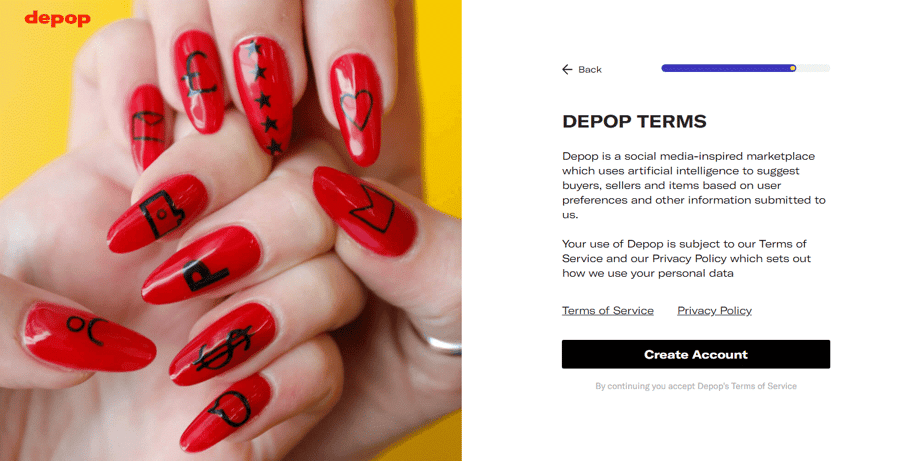 That's it, you've completed the first step!
2. Connect Your PayPal Account
Once you've created an account on Depop, the next step is to connect your PayPal account to start receiving payments of your sold items.
Depop currently doesn't have their own payment system, so all purchases go through PayPal, whether the buyer payment is made with PayPal balance or Debit/Credit card. So, in order to sell on Depop, you will need a PayPal account to connect to Depop.
To connect your PayPal account to Depop, follow these steps:
Step 1: Open the Depop app and tap on the 'Profile icon' located at the bottom right of your mobile screen.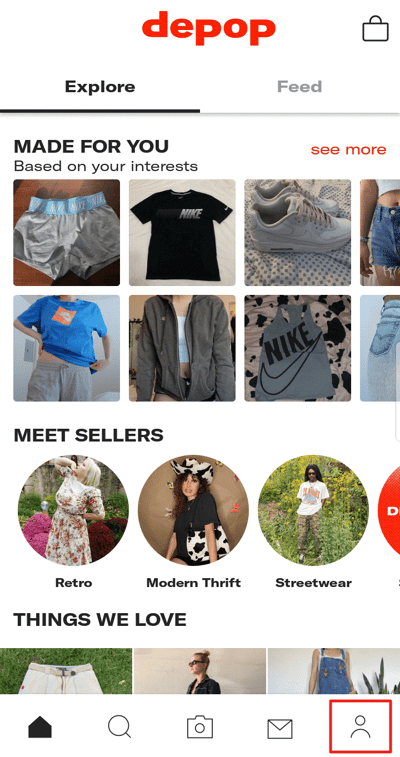 Step 2: Tap on the 'Setting icon' from the top right side of the screen.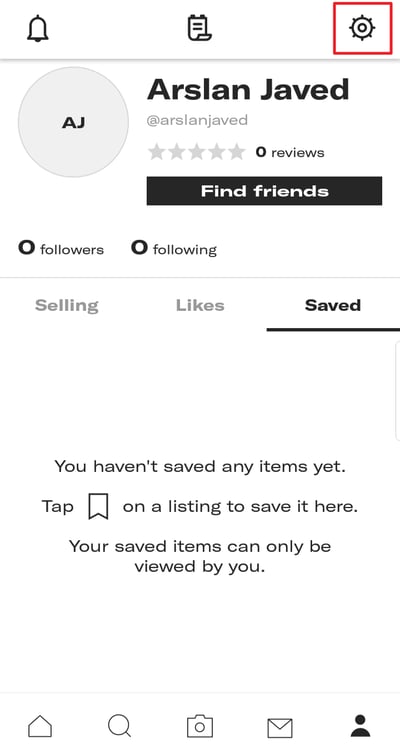 Step 3: Now tap on the 'PayPal account'.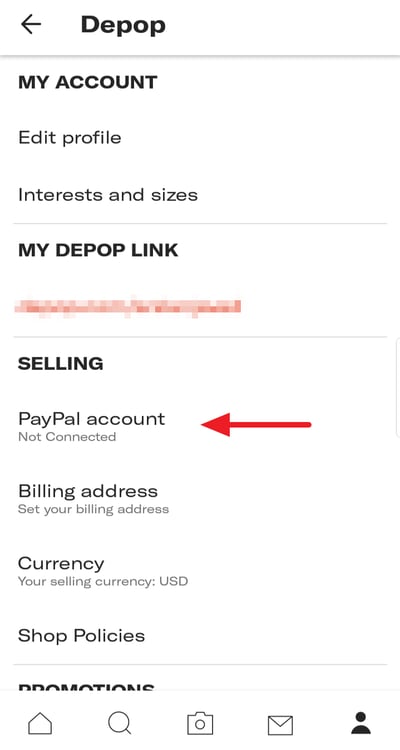 Step 4: Tap on 'Connect PayPal'.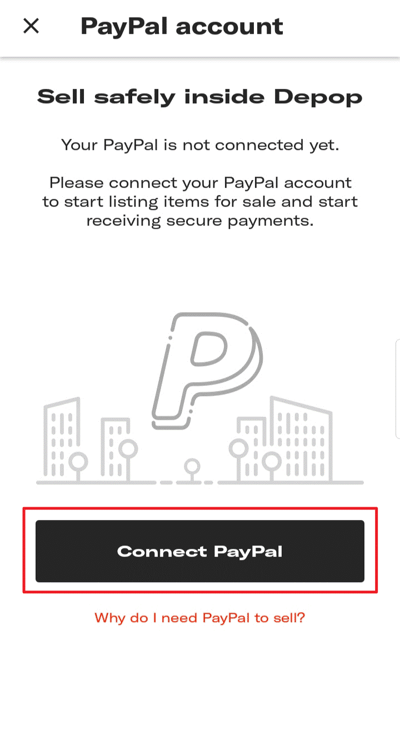 Step 5: Log in to your PayPal account.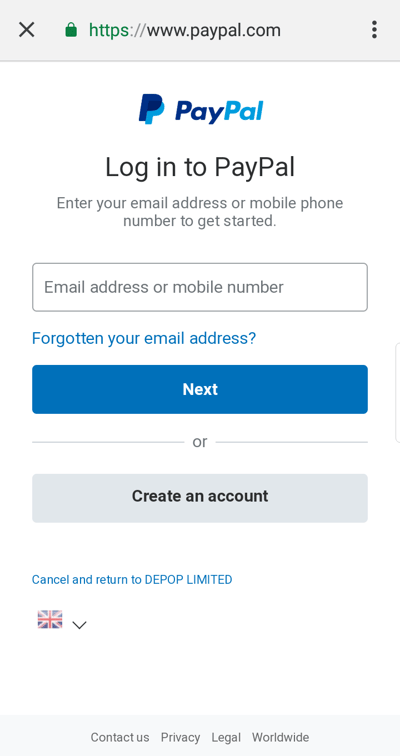 Congratulations! Your PayPal account is connected to your Depop account. Now you can start selling items and get paid when your items sell.
3. List Your Items on Depop
Listing is fairly easy on Depop. Follow these steps when you want to create a Depop listing.
There are two ways to list items on Depop:
Using the Depop app.
Through the Depop website.
Listing Items on the Depop App
Step 1: Open the app and tap on the 'Camera icon' at the bottom center of the home screen. Then, tap on 'Set up your shop'.
Step 2: Add a photo/logo that represents your brand and tap on 'Next'.
Step 3: Write a bio about your shop and what you're selling and tap on 'Next'.
Step 4: Link to your social media account and tap on 'Next'.
Step 5: Enter your First name, last name, billing address, and tap on 'Next'.
Step 6: Now tap on 'List your first item'.
Step 7: Tap on the 'Camera icon' again.
Step 8: Once you complete all the above steps, the final step is to add four images and one video (video is optional, but we recommend you upload one) of your item. You'll also need to add a description, five hashtags, your location, a relevant category, shipping information, and the price of the product. When finished, tap on 'Post listing'.
That's it, you've successfully listed your first item on Depop! Now, you can list as many products as you want.
Listing Items on the Depop Website
Step 1: Log in to your Depop account on their website.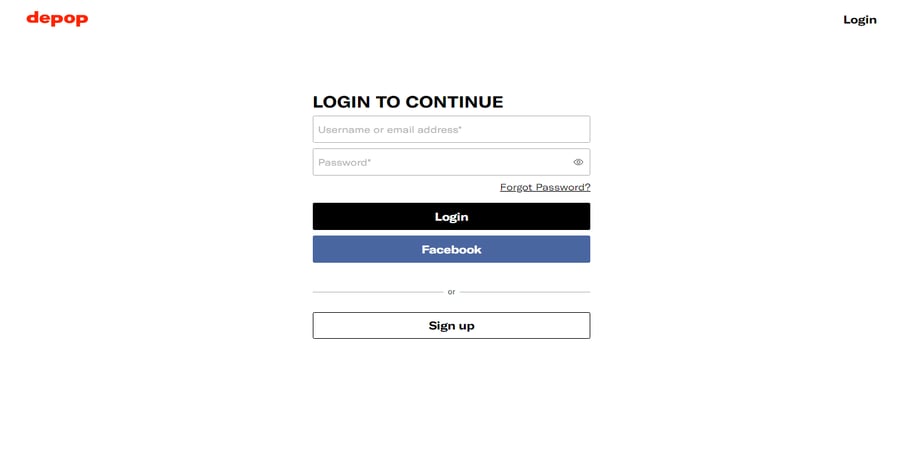 Step 2: Once you're logged in, click on 'Sell' from the top right side.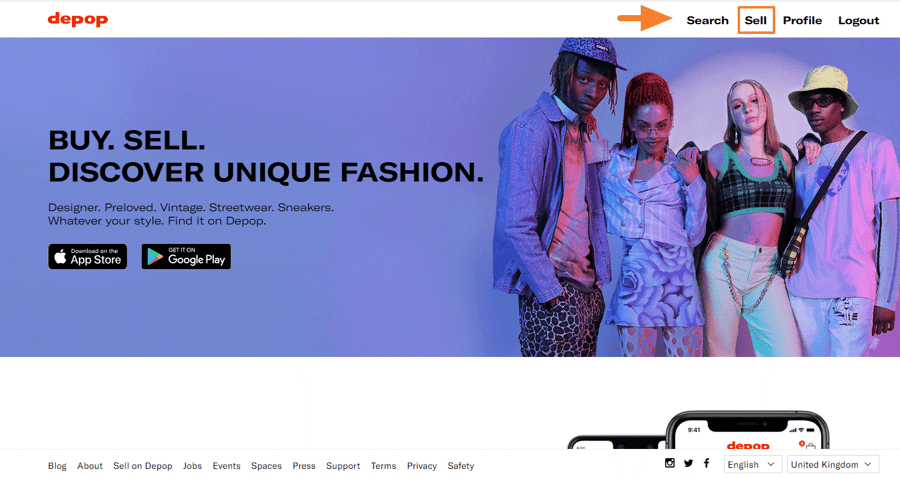 Step 3: Add photos, description, price, and all the other details that we've discussed above about your product.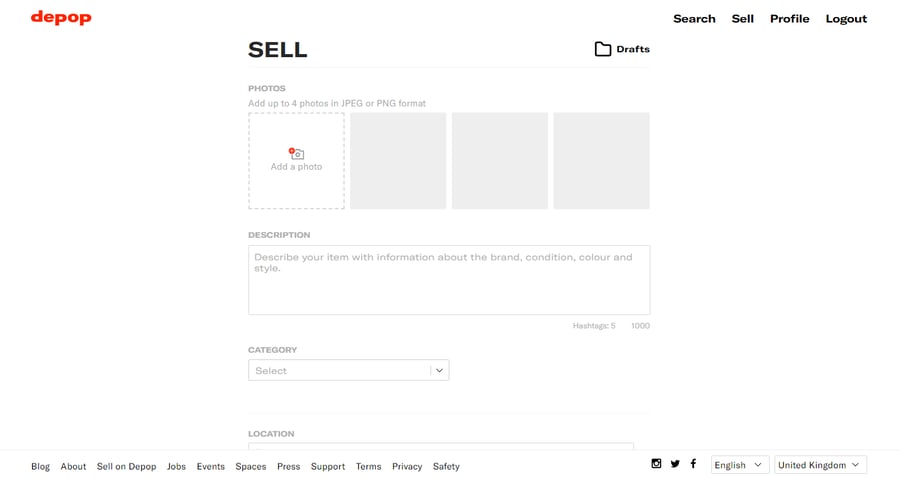 Depop Selling Tips
A listing page is where the customers view a product. The way you optimize your listing pages can have a huge impact on your sales, so follow these best practices for adding listings to your Depop store.
1. Take Good Photos & Video
Taking quality photos of your items from every angle is crucial because the first thing that buyers are going to see in your listing are it's photos and videos.
There's no need to buy high-end photography equipment to take great product photos. Simply take four photos of your item in natural sunlight to make a huge improvement on the quality of your images. Then, edit photos online into square sizes with a free online designing tool like Canva or its premium version Canva Pro and upload them in your listing.
However, we recommend you shoot a video of your item as well to give Depop shoppers a better idea of how your product looks in action.
2. Write Product Descriptions That Sell
Once the shopper has landed on your product page and looked at the photos/video of your product, the next thing they will look at is the description of your item.
With an effective product description, you can convince the customer to click the "Buy now" button.
Follow these common, helpful tips to writing effective product descriptions:
Define your target audience before writing your descriptions.
Use short, descriptive sentences.
Highlight the key features and benefits.
Use natural language and tone.
Include product keywords to optimize for search so that people will find your listing.
Implement these tips while writing your description to optimize your listing pages for more sales.
3. Describe the Item Fully
Describing your items completely in your product description doesn't just make you a trustworthy seller, but it also helps you to avoid refunds.
Please keep in mind that if you didn't describe your item fully, you might have to refund the payment to the buyer of your item.
For example, if you're selling shoes and it has a downside like a scratch and you didn't mention this in your product description, knowingly or unknowingly, then the buyer might open a dispute against you. This may result in giving a refund to the buyer.
Depop also has a page to guide buyers on how to open a dispute against the seller if they received a product not as described.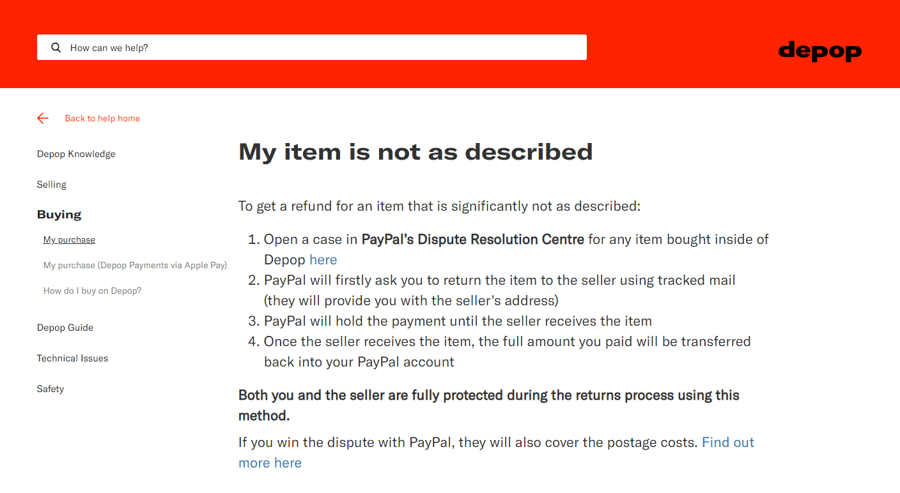 So, to avoid refunds, always describe your items fully in your product description.
4. Price Fairly
Pricing is another important aspect when it comes to selling. It can have a big impact on whether or not people decide to buy your items, even if you've uploaded high-quality pictures and written a detailed product description.
Before pricing an item, calculate the overall cost, including shipping and the retail price of your item.
Don't price your items too low because it could have a negative impact on your profits. Alternatively, don't price too high either because it can also dissuade customers from buying your product.
Also, if an item is already being sold by other sellers on Depop, search for similar listings to see what items like yours sold for and try to price your item for slightly cheaper than the rest. This can give your listing an edge over competitors.
5. Sell Without Inventory
If you want to sell online, whether it's on Depop or any other marketplace, but don't have the inventory, then you can still sell! By selling print-on-demand products, you won't need to have an inventory in stock.
All you have to do is to choose the best print-on-demand service provider for your business, such as Printful or Printify, and create your own custom goods like t-shirts, mugs, and more.
When it comes to print-on-demand service providers, we recommend Printful and Printify. If you're not sure which one to choose between these two, check out this detailed comparison of Printful vs Printify by Ecomsay to select the right one to select the right one.
However, if you intend to dropship your print-on-demand items, Depop does have restrictions on what is allowed on their platform. Here are their restrictions:
Dropshipped print-on-demand products must use a design created by the seller.
The product listing must use original photos; stock pictures, supplier photos and customer photos are forbidden.
Your description must disclose that you are working with a third-party to source and manufacture your products.
You must personally design, source and purchase the items you intend to sell to determine quality and standards of your supplier.
6. Ship Your Products
When it comes to shipping on Depop, you must first decide on the shipping and fulfillment option.
Since Depop is mostly used by shoppers in the United States, sellers also within the U.S. typically have two shipping options:
Depop Shipping via USPS: You can select shipping with Depop, meaning you don't have to configure shipping manually. However, shipping with Depop can be expensive. This method of shipping does allow you to select whether shipping must be paid by you or by the buyer.
Arrange Your Own Shipping: If you don't want to ship with Depop, then you have the choice to arrange your own shipping. You can set up custom prices and ship the item nationally or worldwide to the buyer by purchasing a shipping label through a third-party service or ship via your local post office.
Please note: To keep proof of postage, send the item to the address on the in-app receipt. In case something goes wrong, you're protected by PayPal's Seller Protection.
7. Get Paid
So far, you've created your account, connected your PayPal account, listed your items, made your first sale, and shipped the item to the buyer.
Now, it's time to get paid.
Getting paid on Depop is very easy. In fact, you don't have to do anything – whenever you make a sale, the money is sent to your PayPal account that you've already connected to your Depop account. When the money has been transferred, you can move it over to your bank account if you wish.
How Do I Give Refunds on Depop?
When selling online there are some common reasons why customers return a purchase. If at any point you have to give a refund to the buyer, here's how the refund process works on Depop sellers.
You have two options as a seller before you actually give the refund. You can either agree to the refund, or not agree.
If you, as the seller, agree to the refund, then you will give the refund to the customer.
Since Depop doesn't have their own payment method, and your buyer payments are sent to your PayPal account, so you'll have to issue a refund via PayPal.
Here's a video that explains the process:
On the other hand, if you don't agree to a refund, then the buyer can open a dispute against you directly with PayPal by following the steps here. However, the buyer must have a solid reason to request a refund.
Conclusion
While there are many online marketplaces, Depop is probably one of the easiest to use, making it simple to start selling items right away without any long-form verification.
But still, no matter how easy it is to start selling on Depop, selling on any platform for the first time may seem confusing at first. There are many things you should know before selling on any marketplace. In this article, we've shared many important things you must know before selling on Depop.
Now, don't waste time! Follow the instructions in this article and start selling your own products on Depop.
Read more: